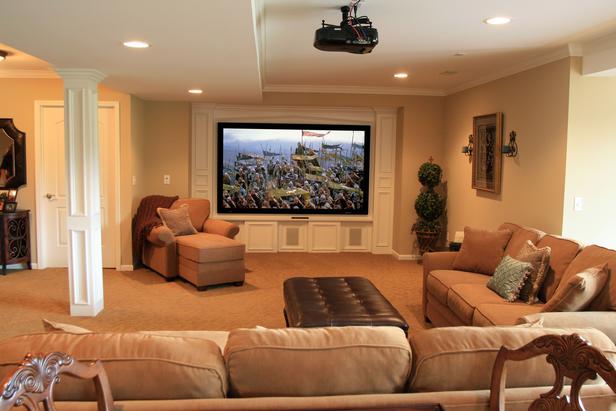 How much will it cost to finish my basement?
The real answer is, "It Depends".  What we need to do is find out exactly what your wants and needs are for your new finished basement space. We will then walk through everything.  We will come up with a design based on what you have in mind. Prices of basements can vary greatly, there are many factors. The size of the basement, the ceiling type, the flooring, paint, if you are having a bathroom, if you are adding a bar, shelving, etc. Price per square foot is a common way to come up with a basement price.
This however, may not be accurate.  A smaller basement usually ended up being more per square foot than a larger basement. Price per square foot is an estimate. The estimate would be on the lower side for basics. Tt would be on the higher side when you add on items. If you get a low price, say $20 per square foot BEWARE! This is probably because you are dealing with someone that is not licensed and insured. They may not aquire the proper permits. They may be using subcontractors that are not licensed. On the other side, you could get an estimate of $70 per square foot. This could be for a smaller basement with a lot of high end features. Another reason could be that a contractor is just taking advantage of you. In reality, you should be paying anywhere from $30-$50 per square foot.
How long will it take to finish my basement?
Again, this is a question that doesn't have an exact answer. There are a lot of factors involved.  We usually estimate 6-10 weeks. That can change if there are many unusual or time-consuming features.
Is a permit required to finish my basement?
Yes. It's against building codes to finish a basement without a permit. Permits protect the homeowner because the construction must pass inspections. It is also a must if you sell your home down the road, then the new owner knows that everything was built to code.
What do permits cost?
Permit costs vary by town.
What is an egress window?
Are there requirements for a certain size or number of windows in a basement? Fire codes state that there must be an exit from a finished basement. This can be a door or hatchway. If there is no door or hatchway then you must install an egress window, this is a special window for basements at are big enough to use as an escape route in case of an emergency. If there is a bedroom in the basement, the egress window or door must be in the bedroom.
Is a kitchen allowed in a basement?
Many towns do not allow full kitchens in a basement. However, you can check with your town. Items such as sinks, bars & refrigerators are generally allowed.
Is a fireplace allowed in a basement?
Yes, some are built with fireplaces with chimneys. If this is not the case, a direct vent gas fireplace can be installed.
Can rough plumbing for a bathroom be moved or added?
Yes it can. This obviously would be an additional charge. Many times customers decide they want the bathroom in a different place than where it was originally rough plumbed.
Is it possible to have a hardwood floor in a basement?
Yes as long that the sub-flooring is installed properly, wood flooring can be an option in a basement.
What is recommended if our furnace is not large enough to accommodate a finished basement?
Another furnace can always be added. Generally we don't need to go this route. Another zone can be added to accommodate heating the additional space if the existing system will allow it. The best and most economical route to take in most instances is to add electric baseboard heating.
Is there an advantage to using a suspended ceiling versus dry wall ceiling?
There are some advantages. You can easily run wiring from room to room. If you ever need to access anything in the ceiling, a tile can be removed. It is up to the homeowners digression which type of ceiling they want to use. We can install both types.